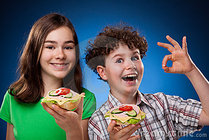 10 Smart Lunch Ideas for a HEALTHFUL YOU!
Source By Keri Gans, R.D.
(http://authors.simonandschuster.com/Keri-Gans/75628581)




Going back to school is like starting a new year for those who are not in school and working. What a great way to begin a New You! You know that breakfast is the best meal to start your day but if you don't keep it heathy at lunch, your other meals throughout the day can turn into a waste (no pun intended). Start out by making healthier lunches without a lot of thinking.

Here are some tips from Kari Gans, a registered dietitian:1. Have a piece of fruit for dessert. This helps fill you up and completes the meal.

2. Choose 2 slices of whole-wheat bread for your sandwich. Avoid rolls, heroes, or buns, which tend to have more calories and less fiber than sliced whole-grain breads.

3. Add protein (i.e., chicken, turkey, egg) to your tossed salad. Otherwise you will still feel hungry.

4. Don't turn a salad into a high-fat, high-calorie disaster. Avoid creamy dressings, as well as "extras" like bacon bits and oily croutons.

5. If you're still hungry, add a pickle to your meal.

6. Instead of chips or fries with your sandwich, choose vegetables or fruit.

7. Ask for dressings and sauces on the side.

8. Request light mayonnaise for your tuna salad, egg salad, or chicken salad.

9. Peruse restaurant buffets first without your plate, and then decide what you really want.

10. Build your sandwich with veggies, such as tomatoes, cucumber, lettuce, and onions, not high-fat cheeses, extra meats, or rich spreads.